story
Jane's Fellow Confronts Gun Violence Through Public Art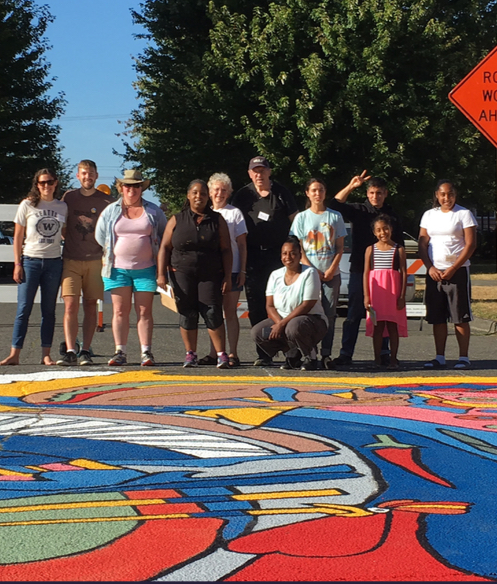 Tacoma Artist Dionne Bonner Confronts Gun Violence Through Public Art
As conversations on gun violence crisscross towns and cities across the nation, communities are looking for creative ways to stem the violence. New legislative policies and policing practices can generate impact, but authentic empowerment must arise within communities to truly produce change.
Local Tacoma artist and Class 8 Jane's Fellow Dionne Bonner believes that change occurs when members within a community are given a positive voice that can be shared and expressed with each other and the world. As a public artist, she explores ways to produce projects that engage members across multiple mediums – that will spark a sense of pride in their communities, as well as their cultural past and present.
As an artist, Ms. Bonner understands a truth that communities across the nation are discovering: that public art projects, such as murals, are powerful ways to foster empathy and unite people together. Studies back up Ms. Bonner's core artistic belief. Evidence shows that pride in community and social cohesion at the neighborhood level can greatly reduce violence crime rates. Great works depicting modern culture aren't limited to museum walls — artistic pieces of exceptional quality embolden community center walls and public locations that are accessible to all. Suddenly, a dose of color and a positive, inspiring message are visible day after day.
In Tacoma, Ms. Bonner's public art projects work to strengthen the sense of her community's identity, while doubling as an additional education tool and provide community members with an outlet to envision greater personal potential.
Meet Dionne Bonner — Tacoma Artist and Community Advocate
Dionne Bonner grew up in a family of artists in Tacoma's Hilltop neighborhood. While her parents and siblings gravitated to music, Ms. Bonner showed early talent in painting. The tools of her trade have evolved from oil on canvas to murals and street installations in public community spaces. Upon graduating from the Art Institute of Seattle, a collection of her paintings depicting underexposed African American pioneers was selected for permanent display by Tacoma's African American Museum, until the downtown Tacoma museum sadly closed its doors back in 2005.
Since her early artistic success, Ms. Bonner has continued to refine her artistic vision and creative focus. Recently, she turned her attention even closer to home to the community that inspired her, Eastside Tacoma, and the voices and social issues that remain deeply underrepresented in her mind.
"I frequently gravitate to art that presents an underexposed element of society and its issues," says Ms. Bonner. "When I use my creative instincts to give expression to subjects or communities not normally seen or heard, I believe I'm doing my best work."
Community artists across the country are gaining influence as they expose ongoing cultural issues. Ms. Bonner infuses her own voice and upbringing into her local projects, yet she remains inspired by the masters of the craft who came before her. Dionne credits famed African-American artist Jacob Lawrence as a source of inspiration to her methods and use of color. The 20th Century painter is famous for deploying a vibrant and intoxicating pallet while exploring key narratives of everyday African-American lives across American history.
Much like the famed painter, Ms. Bonner derives much of her own artistic impact through conversations and research to help ensure personal and accurate interpretations on society. Unlike the stereotypical painter toiling in a studio, Ms. Bonner seeks ways to make her projects a collaborative medium. The entire creative process is shared and molded with community support. All participants can feel a source of pride in the finished work.
Ms. Bonner's, vision and approach captured the attention of the Tacoma Artists Initiative Program, which helps fund local artists and their visions. It also connected her to the Eastside Community Center.
Art in Focus — Creating a Youth Memorial to Gun Violence
In 2019, Ms. Bonner teamed up with Tacoma's Eastside Community Center to develop a youth memorial to gun violence. The completed mural project will span a 45-foot section of corner wall that incorporates a 90-degree corner. The selected space creates a unique opportunity for an artist who began her career on the standard two-dimensional canvas.
The origins of the Eastside Community Center began with a tragedy. The center is a direct response to a specific act of gun violence. After the heartbreaking death of 17-year-old Billy Ray Shirley III, a community activist who was shot and killed blocks from his eastside home, the eastside Tacoma community, organized by Class 5 Jane's Fellow Shalisa Hayes, rallied to build a safe environment for kids and families to interact, learn and thrive.
To help crystallize her vision for the memorial mural, Ms. Bonner recruited local voices from within the eastside community. "When we have a chance to express ourselves in different forms, unexpected ideas can be revealed," says Ms. Bonner. She sought out ideas and personal stories from community advocates through standard interviews. She also sparked greater engagement by holding artistic workshops featuring various forms of self-expression, including dance. The prevailing thoughts and feelings will be incorporated into the images immortalized across the community center's wall.
The countdown begins to early 2020, when Ms. Bonner and the Eastside Community Center will unveil her mural with a special dedication ceremony. While the final project is still a in final planning stages as of fall 2019, we can expect a vibrant dose of color, a humanistic focus and a work of art that unites a community together by reminding it what is most important: the inspiring people who call the eastside neighborhoods home.

Dionne Bonner is a Class 8 fellow of Jane's Fellowship Program (JFP), a grassroots leadership development program funded by The Russell Family Foundation. To learn more about leaders like Dionne, please visit our program page.