story
Graduate Tacoma's Community-Wide Movement Sparks Education Achievements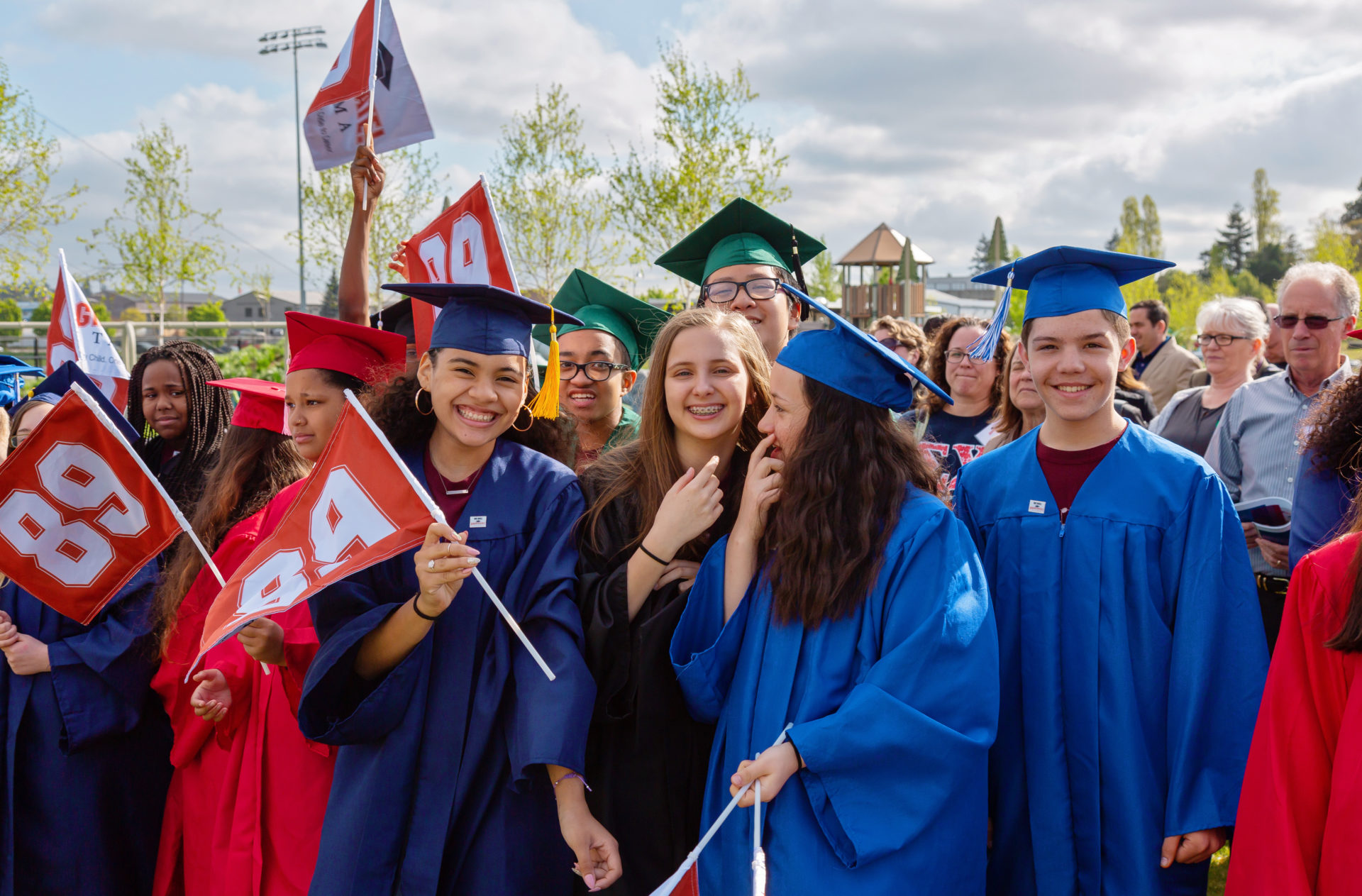 School is officially back in session across the city of Tacoma. As pencils sharpen and binders snap open, it's the perfect time to highlight a local community contributor that is supporting Tacoma's rising graduation rates.
Graduate Tacoma is a community-wide movement on a mission to help every child achieve success – from cradle to career. With more than 270 community organizations and advocates working in partnership, the nonprofit organization aligns educational goals, data and resources to build a Tacoma where every child, regardless of circumstances, can succeed.
Tacoma is one of the fastest growing cities in the nation and among the most diverse school districts in Washington state. According to Graduate Tacoma's Community Impact Report (2019), 56 percent of Tacoma's K-12 population live in poverty and 61 percent are students of color. By comparison, 32 percent of Seattle Public School students live in poverty and 53 percent are students of color.
Reducing achievement gaps in education requires an ambitious goal and dedicated community focus.
Mobilizing a Community to Increase Graduation Rates
Tacoma's 2010 high school graduation rate was 55 percent. That same year, Graduate Tacoma set a goal: lead the charge to increase by 50 percent Tacoma Public Schools' high school graduation rate and higher education (college degree or technical certificate) completion rate. That audacious objective required a concrete plan to activate youth, close gaps in access and energize communities within Washington state's fourth largest school district.
Graduate Tacoma developed tools to measure and evaluate progress at different stages of the student journey. Graduate Tacoma partners identified 11 student and six community indicators to measure and collect data on benchmark achievements. Sample community indicators include student attendance, student enrollment in college-credit classes and student participation in out-of-school education experiences. These indicators provide measurable data that paints a detailed picture of the student journey. Graduate Tacoma continuously assesses these indicators and develops new metrics to identify where interventions are needed and how to best apply them.
Graduate Tacoma has had a striking impact. According to The Tacoma News Tribune, students achieved an 89.3 percent high school graduation rate in 2018, surpassing the original 2020 goal. The 2019 graduation rate data is yet to be released.
It's a major win for the Tacoma community that has put the Graduate Tacoma community-wide movement in the national spotlight. However, high school graduation performance was only half the objective. Tacoma's higher education rates have declined over the same period. In 2017, 53 percent of students who enrolled in college received their degrees within six years, compared to 57 percent in 2010. That declining trend of 4 percent demands more support for the 29,124 students currently in Tacoma Public Schools.
Reasons to Celebrate, but Challenges Remain
Higher education presents major challenges. Entrance exams, books and supplies, application costs and tuition are significant barriers to success. Persistence in higher education is perhaps the most difficult challenge of all. Drop-outs rates are greatly reduced after the first two years of enrollment. When students begin their third year of higher education, their chances of success improve.
Adding to the challenge, the Washington state legislature ended a six-year freeze on college tuition. The full impact of the 2017 decision is still unfolding but emphasizes the importance of Graduate Tacoma's efforts. These challenges are persistent and difficult to combat.
Graduate Tacoma supports data-driven programs across multiple phases of college preparation and enrollment. These programs facilitate opportunities and accessibility at multiple strategic points of the higher education journey. Below are a few examples:
The "Ready to Rise" partnership program provides admitted college Freshmen with pre-college workshops before the start of their first term. Once on-campus, student mentorships with former Tacoma high school students offer a unique support system to help incoming college students adapt to the unique social and educational challenges that come with life on a college campus.
The Tacoma College Support Network (TCSN) supports enrollment in "right-fit" colleges, technical schools and post-secondary opportunities. TCSN resources help boost completion rates by syncing students' higher education choices with individual interests and passions. TCSN aids financial challenges by easing the FAFSA application process through various incentives, as well as more effective parent and family engagement. Additionally, the Network partners with schools and program providers to promote the state's College Bound Scholarship. Full scholarships to two- and four-year state colleges are offered to eligible students who sign up by eighth grade. Eighth Grade scholarship registrations reached 88 percent in 2018. TCSN aims to boost sign-ups of eligible students to 100 percent.
Graduate Tacoma understands that future success requires incorporating new strategies and partnerships to close the achievement gaps for every single Tacoma student. Tacoma is a community united by educators, parents, faith and business leaders and philanthropists. If you want to help increase graduation rates and enrich the Tacoma community, reach out to Graduate Tacoma to learn more about opportunities to contribute. Additional information, including details found in this article, can be located in Graduate Tacoma's 2019 Impact Report.
The Russell Family Foundation is proud to serve as a funding partner to Graduate Tacoma. To learn more about organizations we support like this one, check out our Jane's Fund page.
(Photo Credit: Kendra Designs Photography)