story
How Partnerships with The Nature Conservancy Benefit Local Economies and Wildlife Habitats Throughout the Puget Sound Region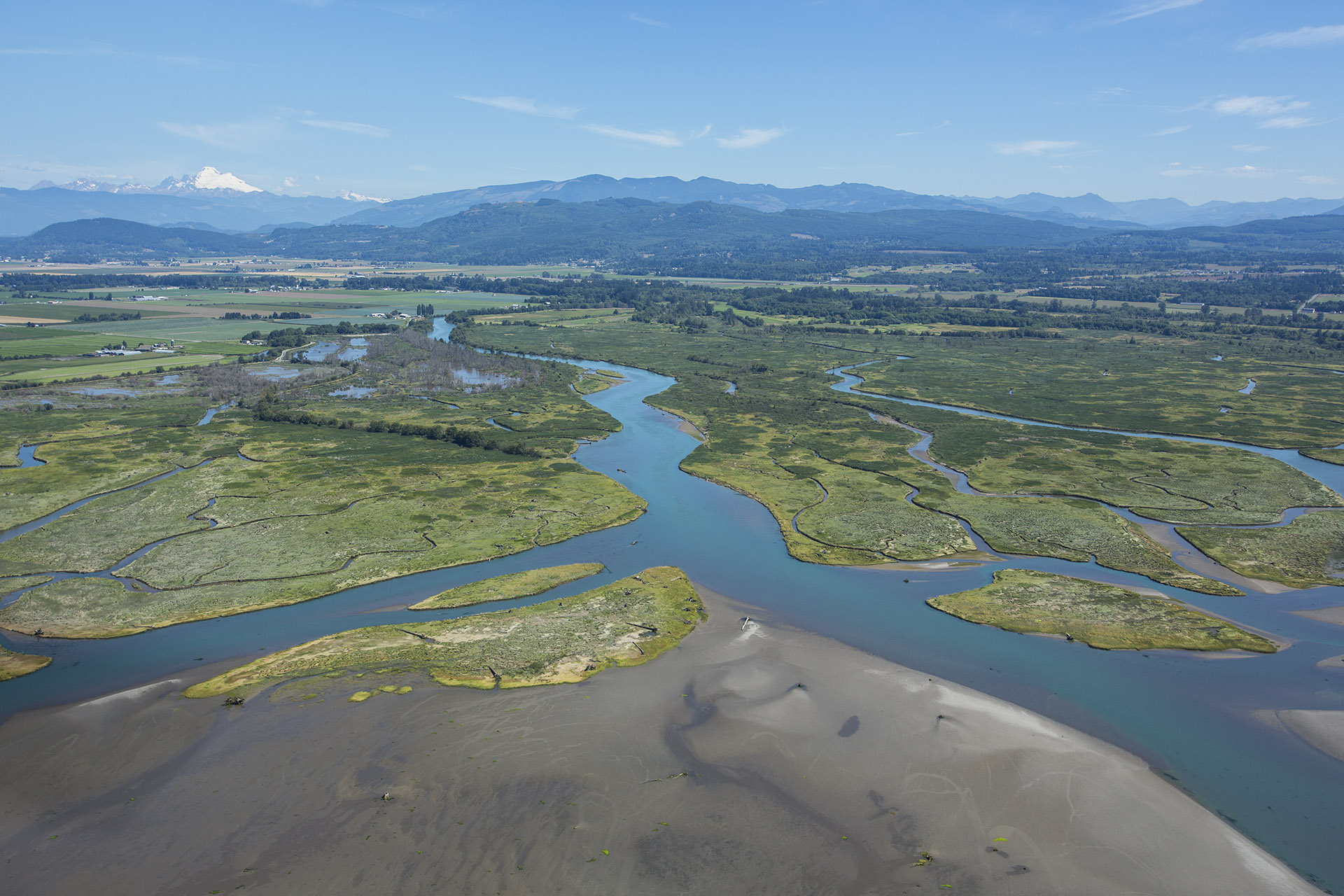 The Nature Conservancy of Washington continues to foster lasting impacts on relationship between residents of Puget Sound and the environment. Multiple environmental initiatives have positively enhanced the public's connection with nature, while simultaneously increasing wildlife welfare and economic productivity.
Such an outcome isn't possible by one organization alone. Continued success relies on critical partnerships with support from passionate communities. Below are a few proud examples of individual collaborators that are strengthening our region's vital relationship with the environment.
The Nature Conservancy and Floodplains by Design — Taking Lessons Learned at Fisher Slough to Benefit Farmers and Protect Salmon at a Greater Scale
Skagit County's Fisher Slough is at the heart of one of the Pacific Northwest's premier agricultural regions. Farmland among these native floodplains contains especially fertile soil. However, the constant threat of flooding affects the livelihood of farmers and the regional economy that rely on consistent crop yields. Complicating the matter, the Fisher Slough is also a critical habitat for spawning Chinook Salmon, a species that contributes to the overall ecosystem health of the Puget Sound. Flooding is crucial for spawning salmon.
A modern floodplain management approach was required – one that could help people and nature better coexist and thrive. The answer is the Fisher Slough Restoration Project.
For the Fisher Slough Restoration Project, a group of farmers, local governments, tribal leaders and technical engineers installed new drainage and infrastructure systems to reduce flooding in critical areas. New fish-friendly tidal gates were built, coinciding with channel excavation and levee construction. In all, 60 square-miles of tidal marsh habitat were restored along the Skagit Delta.
According to Restoring the Tides, the Fisher Slough impact report released by The Nature Conservancy, the Fisher Slough project estimates a value-of-benefit reaching as high as $20 million over the next fifty years. A reinvigorated river habitat with increased flood capacity supports approximately 22,000 more spawning Chinook Salmon, as well as Osprey and various species of migratory birds. Farmers can now invest in their crops, knowing that their investments are protected from flooding.
About Floodplains by Design
The Skagit Valley is known for its rich agricultural heritage and environmental assets. Through the Fisher Slough Restoration Project, The Nature Conservancy and its partners demonstrated how interests in farming, flood management and salmon recovery could be integrated into a single project. From this and other similar experiences in the region, the Conservancy founded the Floodplains by Design partnership.
A public-private partnership with The Nature Conservancy, Floodplains by Design (Fbd) is a coalition of highly-motivated farmers, tribes, local policyholders and engineers on a mission to overcome some of the most technically demanding environmental challenges the Pacific Northwest has to offer.
Floodplains by Design provides technical assistant to increase flood protection, recharge aquifers and improve wildlife habitat. Since 2013, the FbD partnership has reconnected 2500 acres of floodplain, reduced flooding for 38 communities, protected 500 acres of prime farmland and improving water quality to 1200 acres of shellfish beds.
The Nature Conservancy and City Habitats — Reimagining How Stormwater Runoff is Managed Along the Aurora Bridge
Polluted stormwater runoff from hard urban surfaces, such as roads and bridges, accounts for 75% of pollutants into Puget Sound. Runoff happens when rain washes chemicals, fertilizers, oil, auto fluids, and litter off roads and sidewalks directly into our waterways. It is the number one toxic threat to the health of Puget Sound.
Raingardens and bioswales offer a natural filtration solution that greatly reduces pollutants entering waterways. These landscape elements are engineered to concentrate debris and remove pollutants from stormwater runoff before it drains into local waterways. They also provide other benefits, like neighborhood beautification, to communities.
The Nature Conservancy collaborates with nonprofits, businesses and government partners to reduce stormwater pollution through green infrastructure projects. In the case of the Aurora Bridge project in Seattle's Fremont neighborhood, the Conservancy and partners Salmon-Safe and Clean Lake Union are working to reduce stormwater runoff that adversely affects Lake Union and its connected waterways.
To take action to reduce polluted runoff, the partners collaborating at the Aurora Bridge are constructing a series of bioswales, or "cascading rain gardens" to collect polluted runoff below the Aurora Bridge. These green infrastructure installations will eventually be found in various, strategic locations beneath the roadway. The first bioswale installation is located on the west side of Troll Avenue, adjacent to Tableau's headquarters.
The goal of all combined phases of the Aurora Bridge project phases, is to capture and treat 2,300,000 gallons of polluted runoff annually. With dozens of bridges over critical waterways in Puget Sound, the Aurora Bridge project provides an example of success and inspiration for future projects in Puget Sound. It's timely and critical work.
The benefits generated by the Aurora Bridge project may come to your neighborhood, too. Through City Habitats, a cross-sector coalition focused on bringing more nature into Puget Sound's town and cities to support healthier communities, organizations like The Nature Conservancy are connecting valuable stakeholders to learn from one another. Ongoing collaborations on projects like the one at Aurora Bridge are vital for delivering the greatest environmental impacts possible to Puget Sound residents.
The Nature Conservancy is proud of its partnerships with Floodplains by Design and City Habitats. Together, these multi-stakeholder collaborations are developing new methods to protect vital habitats, while simultaneously strengthening economic viability and quality of life for Puget Sound residents.
The Russell Family Foundation is proud to have supported both Floodplains by Design and City Habitats at The Nature Conservancy in Washington. To learn about other Puget Sound efforts we support, check out our programs page. Photo Credit: © Marlin Greene/One Earth Images.