story
Tacoma Filmmaker Shines Light on Seattle's Homeless Crisis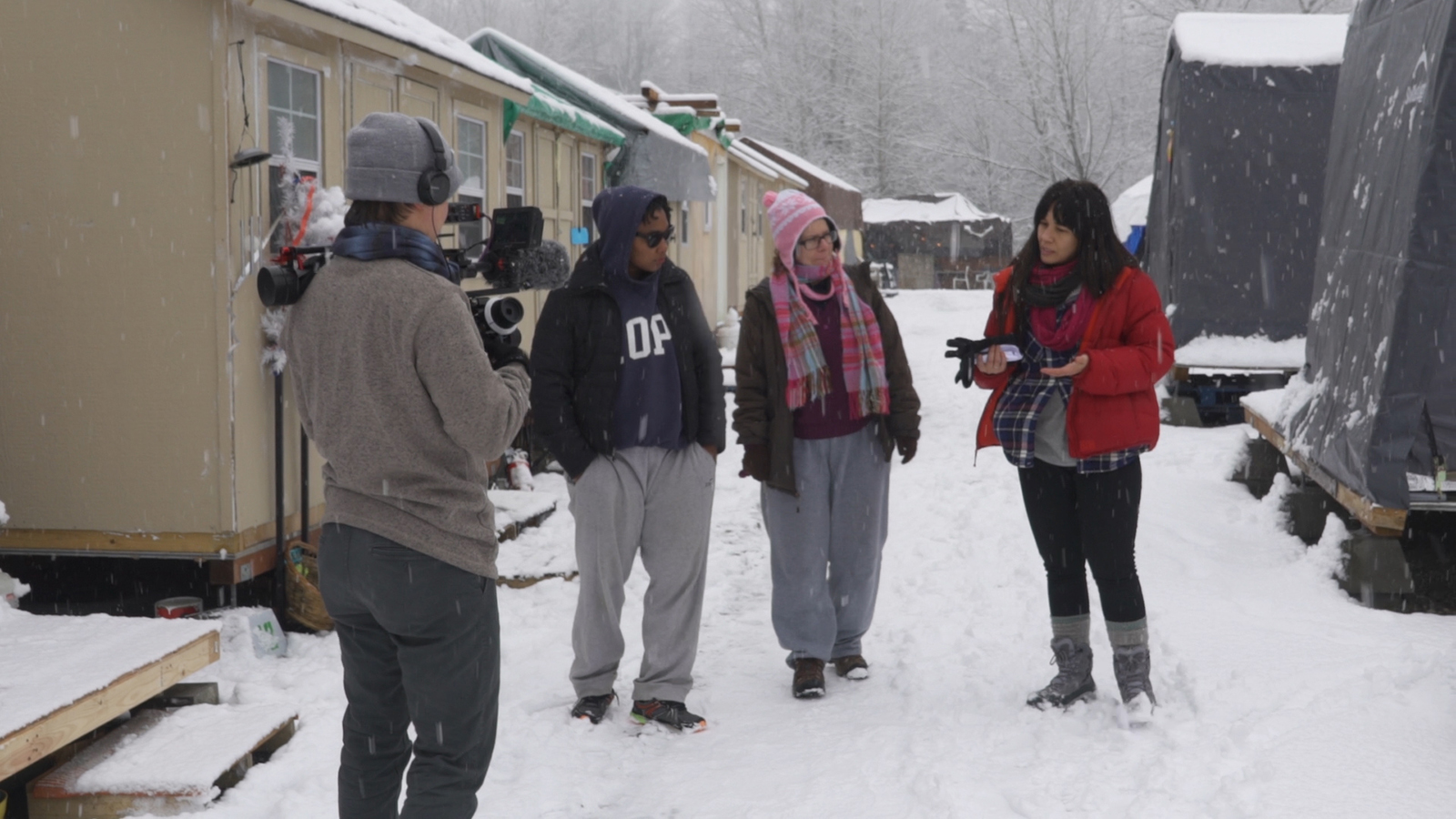 Tacoma filmmaker Melinda Raebyne's first documentary feature film "Stories of Us: Camp Second Chance" premiered this past summer at the 45th Annual Seattle International Film Festival (SIFF). The local documentary takes a behind-the-scenes look at the Seattle homeless crisis by delivering a personal perspective to life on the streets. The powerful film sold out both of its festival screening and continues to impact the local homelessness conversation.
It's a tremendous honor to have a film selected by SIFF. One of the top film festivals in the country, the 2019 festival ran from May 16 to June 9 and featured 414 films, including 238 feature-length projects. The final selections were chosen from a pool of thousands of submissions, with only an estimated around 10 percent of submissions making it to festival screens.
Ms. Raebyne felt an internal drive to tell the stories of the people at the heart of Seattle's homeless crisis because she understands she can sympathize with the feelings of being voiceless, unaccepted and stigmatized. Growing up, Ms. Raebyne suffered from physical and emotional abuse. As a woman of mixed race from a military family, she grew in various cities across the U.S. constantly battling judgments and stereotypes. While not directly related to homelessness, these themes dictate the kinds of projects that motivate her to tell stories that leave an impact. The reality is that there are many paths to homelessness.
"I feel that I can give voice to those who are typically forgotten in our society," says Ms. Raebyne. "I believe that if I can get the audience to feel what the subject in my pieces is going through then likely my audience can connect on a deeper level to them. I want to use the power of storytelling to change the world. I want victims to become visible."
It would have been easier to create a homeless documentary the identifies the problems and issues from a distance. But Ms. Raebyne felt there was more to the story. She wanted audiences to connect at a deeper, emotional level. That objective compelled the director to make "Stories of Us: Camp Second Chance" as intimate a documentary as possible. That required entering the world of her story.
Creating Empathy Through Storytelling
December nights in Seattle nip at necks and chap lips. Every foggy exhale of breath is a chilly reminder to hurry back inside where it's warm. For Seattle's homeless population, the cold and frequent winter rain are just a few of the daily struggles of life on the streets.
Data collected from King County's annual one-night tally, held on a single night in January 2019, counted 11,199 people living in tents, shelters, vehicles and on the streets across the city of Seattle. We know this is an undercount," said Kira Zylstra, acting director of All Home King County, the organization that runs the yearly count.
To tell Seattle's homeless story effectively, Ms. Raebyne decided she needed to brave the cold. During Christmas week in December 2017, she embedded herself in Camp Second Chance, a clean and sober homeless community in downtown Seattle that provides emergency shelter for up to 50 people through a collection of tents and "tiny homes." This is one of six encampments authorized and funded by the City of Seattle's Human Services Department as part of the city's emergency response to the homeless crisis.
Only by embedding herself with the community, could Ms. Raebyne experience the harsh environment and social judgment that takes a toll on the human psyche. As her camera's rolled, she collected deeply personal stories of internal battles and the hopes and dreams of people that Seattleites don't really understand.
In "Stories of Us: Camp Second Chance," Ms. Raebyne has built a raw and intimate narrative that is guided by the voices of the homeless subjects captured on film. Throughout the documentary are stories of triumph as we witness society's forgotten population beat the odds and invest in each other and how a deep will to not just survive, but thrive, exists in us all. Viewers begin to look at homelessness in a different way. It's hard not become invested in their emotional stories, their individual frustrations and their lack of support. Suddenly, assumptions and stigmas of homeless causes and reasons begin to weaken and fray.
"Camp Second Chance: Stories of Us" is an important addition to the local conversation on Seattle's homeless crisis. It's difficult to develop solutions from a distance, without understanding the complex context that shifts from one homeless case to another. Without Ms. Raebyne's project, these stories presented to the SIFF audience would go untold.
A Filmmaker's Journey Continues
"Stories of Us: Camp Second Chance" continues to impact Pacific Northwest audiences. Presented in partnership with SIFF, Ms. Raebyne screened the film for students at Montlake Terrace High School. The Q&A that followed with students and staff was proof that art centered around a message of compassion and humanity can unite and inspire people to think differently about the world around them.
Ms. Raebyne's partnership with SIFF provided an additional screening to the Seattle Center Racial Equity Cohort at the Seattle Center campus. Washington State Senator Joe Nguyen attended the viewing and joined Ms. Raebyne in the panel discussion that followed.
The film continues to make rounds on the film festival circuit. It was a recent feature selection of the 2019 Tacoma Film Festival, winning the Audience Choice Award for Best Pacific Northwest Feature Film. Next, the film journeys to Bellingham as an official selection of the 20th annual Bellingham Human Rights Film Festival, taking place in February 2020.
As "Stories of Us: Camp Second Chance" continues to impact the homelessness conversation, Ms. Raebyne will keep telling stories that give a voice to those who have been forgotten.
Disclaimer: Melinda Raebyne is a Class 8 fellow of Jane's Fellowship Program (JFP), a grass-roots initiative funded by The Russell Family Foundation to help foster the next generation of community leaders.