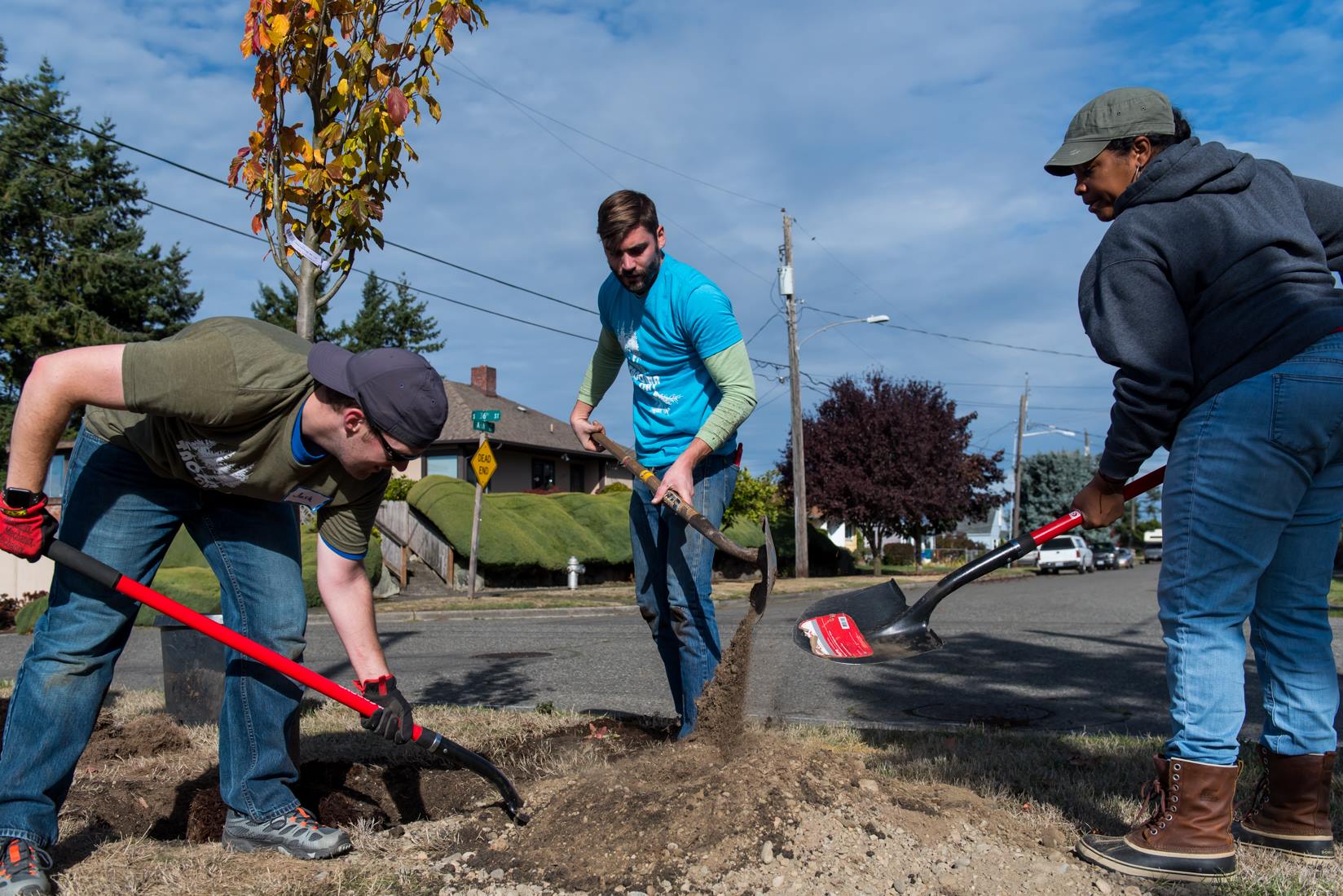 How the Puyallup Watershed Initiative's Community Approach is Advancing Tree Stewardship Throughout the South Sound
Arbor Day has come and gone. Celebrated every April, the national holiday was established to promote trees as a vital natural resource. Yet a focus on trees one day a year does little to rejuvenate a public's general appreciation of trees throughout daily life. It's time to ramp up our knowledge and appreciation of our arboreal allies throughout the entire year.
The Puyallup Watershed Initiative (PWI) is a nonprofit organization on a mission to address inevitable consequences of human development and influence more sustainable land use decisions. Various issues tackled by the PWI are identified through the organization's individual initiatives, called Communities of Interest (COI). The COI's are the engines of change that collectively propel the PWI to achieve its overall mission. There are six COI's directed through the PWI. The Forest COI has the task of increasing the South Sound's environmental stewardship of trees and urban green spaces.
Cue the Tree Talks.
Tree Talks is a grassroots campaign that aims to educate and empower residents of South Sound communities to discover the critical nature of trees to our quality of life. The series of presentations arrives at an opportune time as Tacoma and outlining communities of Puyallup and Sumner face increased growth and housing demands. In these instances, trees and green spaces often become a side note, when in reality, trees play a critical role in community development and welfare.
We're already beginning to see how climate change and a reduction in urban green spaces are impacting human health. Studies show that the visible presence of trees decreases the re-admittance rate of hospitals. Tree's provide more than shade, they provide a critical service to reduce urban temperatures. The mild climate of the Pacific Northwest is not acclimatized to hot summers. As unseasonably warm temperatures become the new norm, access to green spaces is a vital benefit to urban life.
Communities need to do more to support trees. Tacoma, for example, is at 19 percent of total tree cover — a healthy urban goal is 30 percent. According to The Puyallup Watershed Initiative, reaching that 30 percent goal is equivalent to five Point Defiance Parks. Changing public behavior and influencing policy isn't easy. But the PWI believes a community approach to solving environmental challenges can be a powerful catalyst for change.
2019's three-part Tree Talk series began in April and includes additional community events in July and September. To help ensure each talk is community driven, events are held in accessible neighborhood locations such as coffee shops and breweries within Tacoma, Sumner and Puyallup.
A Brief Look at This Summer's Tree Talk Topics
In case you missed the Forest COI's first Tree Talk series last spring, the gathering was focused on trees in the local community and why they matter. The casual, family-friendly events broke down the benefits of trees in urban spaces, while discussing specific ways curious tree stewards can join in and help.
The upcoming July Tree Talk introduces a special guest to the series, University of Washington social scientist, Dr. Kathleen Wolfe. Dr. Wolfe's research is focused on better understanding the human dimensions of urban forestry and urban ecosystems and how people experience nature in urban cities or towns. Dr. Wolfe will dig deep into the incredible ways trees directly impact human health and community equity.
Fall is planting season, and that means the September Tree Talk is a chance for participants to get their hands dirty with a special presentation on the tips and tricks for planting a tree in your own backyard. Time/Date: TBD
Check out the Forest COI's Tree Talk series home page for updated info on locations and scheduled times in your South Sound city.
It's easy to take trees for granted, especially in the Puget Sound region. The Pacific Northwest is known for its lush green forests. Yet with increased urban development comes a responsibility to understand and protect the natural resources that not only aid the region's core identity, but provide significant benefits to urban life.
If you're interested in learning more about ways you can participate in any of the six Communities of Interest sponsored by the Puyallup Watershed Initiative, reach out or visit www.pwi.org. There are a wide range of programs to meet your interests. The PWI's six Communities of Interest include: Forests, Active Transportation, Agriculture, Environmental Education, Justice & Healthy Food Systems and Industrial Stormwater.