Update
Embracing Green Infrastructure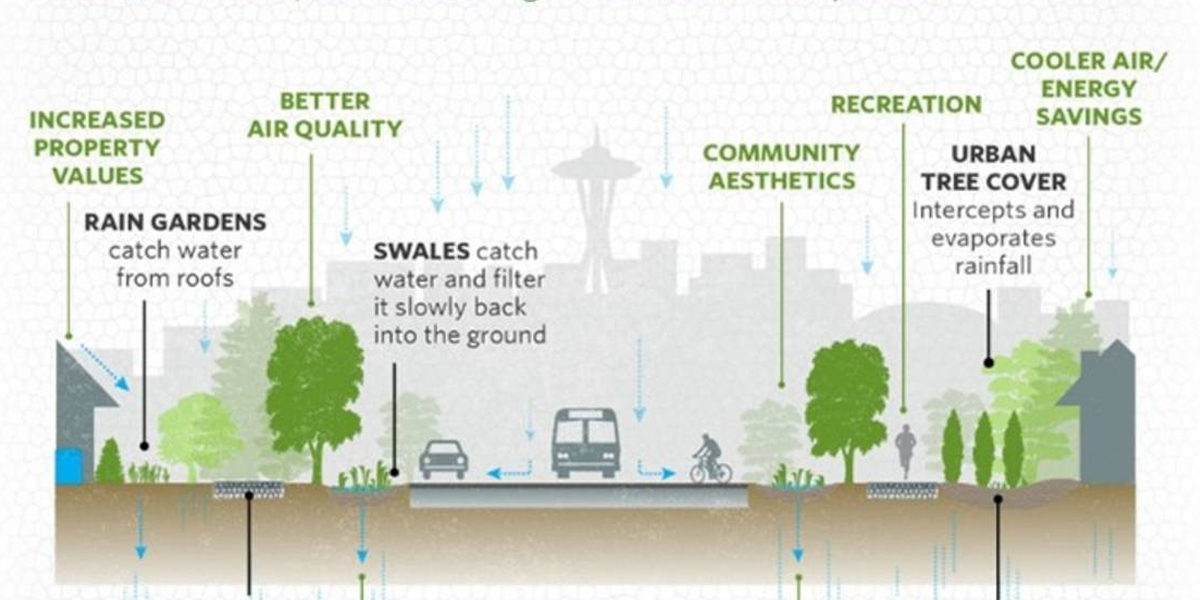 Embracing Green Infrastructure: Low Impact Designs Offer High Returns
For the past two years, Seattle has been the nation's construction crane capital. According to Rider Levett Bucknall, a consulting firm that tracks cranes globally, there were 62 tower cranes in operation at various commercial, residential and mixed-use development projects throughout the city. That's more than New York and Los Angeles combined.
To anyone who travels the I-5 corridor, this comes as no surprise; the cranes symbolize booming growth and all that comes with it (pros and cons). But, for those of us who support social and environmental causes, the proliferation of building sites underscores the importance of green infrastructure initiatives.
That's because "green infrastructure" is so much more than the name implies. Permeable pavement and rain gardens are just part of the story. The big picture includes an array of multi-functional, eco-friendly support systems (including open and green spaces) that deliver numerous environmental, social, and economic benefits.
As a discipline, green infrastructure is still coming into its own as regional planning efforts shift from a traditional, project-centric practice to a holistic approach. This year, I have been honored to witness that process advance at several prominent events, which brought together experts from all sectors — .edu, .org, .com, and .gov – to share their experiences.
In February, the 2nd Annual Puget Sound Green Infrastructure Summit* provided an in-depth view of green infrastructure innovations and their far-reaching benefits. The summit included presentations and networking conversations on clean energy, human-powered transportation corridors, park design, urban canopy management, land conservation, the needs of wildlife and much more.
The keynote speaker, celebrated urban revitalization strategist, Majora Carter, tied all these themes together by looking at "green infrastructure" from a community development lens. With compelling case studies, she showed how environmental improvement strategies have greatly enhanced nearby neighborhoods with higher property values, higher employment, and higher quality of life. Yet, as she made clear, local residents need to feel connected to the vision for it to come true.
At the Regional Open Space Leadership Forum in March, the focus was on protecting green and open spaces such as parks, farms and forests. Roughly 100 participants spanning academia, nonprofits, government, health, business, and community-based organizations shared ideas on how to integrate these types of open spaces into green infrastructure systems. The meeting also marked the completion of six years of work on the Regional Open Space Strategy (ROSS), which makes the business case for multi-jurisdictional planning across the open space system in Central Puget Sound.
The Green Infrastructure Leadership Exchange in May centered on the practical concerns of implementing green infrastructure solutions. This peer-learning event covered key areas of interest, such as technical expertise requirements, surmounting bureaucratic resistance, and enabling public/private partnerships. Through these honest, real-world conversations, participants gained a deeper understanding of costs, benefits, and interdependencies of green infrastructure programs.
The dialogue coming out of each of these events resonates deeply with The Russell Family Foundation. Our programs center on environmental sustainability, social equity, and encouraging community stewardship of local resources. Our commitment to clean water for Puget Sound is advanced through nonprofit organizations that work together to engage local governments, residents and private property owners. We believe this type of coordinated approach will increase the odds of success at both the policy and grassroots level.
That's especially true when it comes to advocating for green infrastructure. Necessity may be the mother of invention, but we need sustained, collaborative leadership to ensure that good ideas for infrastructure enhancements are widely shared and implemented.
The Russell Family Foundation is continually searching for thought partners in this arena. If you are an expert or a newcomer to the green infrastructure movement, let's connect to explore what's possible.
# # #
* The Russell Family Foundation is a sponsor of the 2017 Puget Sound Green Infrastructure Summit
** Washington State Office of Financial Management's 2007 population projections.