Update
Learning from Leadership Transitions at the 2019 National Center for Philanthropy Forum on Family Philanthropy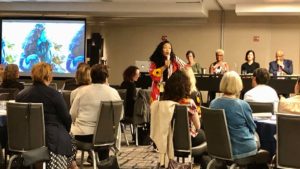 In steering The Russell Family Foundation for the past 20 years in its evolution as a foundation, CEO Richard Woo has guided TRFF on its journey in mission-aligned investing and support of community-centered and place-based change in the Puget Sound Region. As one might imagine, 20 years of leadership accumulates quite a bit of wisdom and stories. No stranger to participating in community events and sharing lessons learned from his work, Richard continues to join in conversations.
A few weeks ago, Richard and TRFF Chief Financial Officer Kathleen Simpson attended the annual National Center for Family Philanthropy (NCFP) Forum on Family Philanthropy in Chicago, Illinois. A convening of philanthropic families and leaders to discuss best practices, emerging trends and ways to continuously improve the world and impact of family philanthropy, this annual conference is one of the largest in the field.
Richard was invited to join the session, "A Conversation with New and Graduating CEOs," alongside leaders from the Walter and Elise Haas Fund, Surdna Foundation, The Brinson Foundation, Successful Generations, The Frey Foundation and NCFP. The group offered key learnings for new and incoming CEOs around the importance of listening, hiring talented people and speaking truth to power.
Some common themes and lessons emerged:
Listen to transitions.

The best learning can be the most uncomfortable. Foundation transitions and change often trigger internal doubt and uncertainty, along with external curiosity. But an unappreciated element of transition is that it provides an opportunity to step back, listen to employees, evaluate what is and isn't working and develop solutions. It is critical to listen to what transitions tell us to ensure a foundation's successful future.

Hire people smarter than you.

Foundation leaders are tasked with carrying forth organizational vision through staff management and resource stewardship. A big secret to impactful leadership is hiring and supporting the development of smart, talented staff. Guiding these future leaders to do their best work and listening to their ideas will create an upward spiral of momentum around innovation and improvement within the foundation.

Determine the role the family will play in its foundation's future.

Will a family foundation be family-centered or family-inspired? This is important to figure out ahead of time, as it will help manage expectations and provide clear guidance for development of programming and stewardship of resources.
Being part of these conversations is important to us. They are opportunities to listen to and learn from other leaders in family philanthropy, and they also allow us to bring ideas to the table and share our own knowledge, exchanging information in the name of lifelong learning.