Update
Presenting The Russell Family Foundation's 2020 Year-in-Review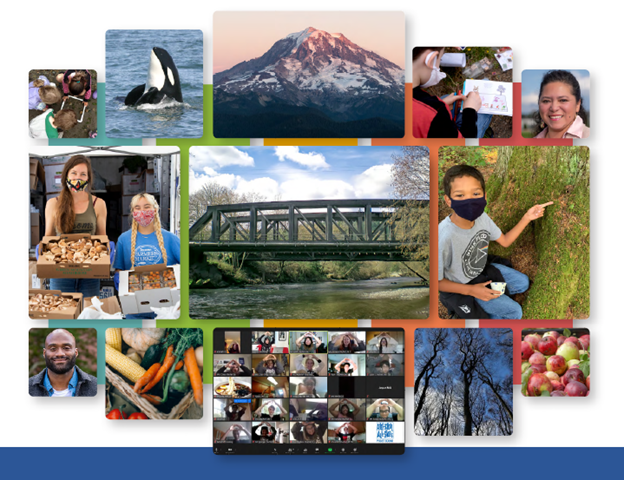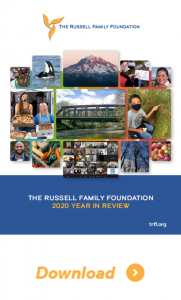 We are proud to share with you The Russell Family Foundation's 2020 Year-in-Review. 
While 2020 was one of the most challenging years we have faced yet, amidst the tragedy, frustration and hardship there was also an opportunity for growth, humility and learning. During a global pandemic, we saw our partners overcome significant obstacles to flex their creative muscles and move quickly to meet the changing need of our community.
In this Year-in-Review, you will find highlights of the community-centered, place-based impact we are so honored to support throughout Puget Sound.
Although the problems that faced us in 2020 are far from over, we remain optimistic knowing that our community will continue to be resilient, nimble and hardworking.
We express our deepest admiration for and appreciation to our grantees, community partners and loved ones for your patience, inspiring work and humility as we chart these new waters together.
Special thanks to the grantees, partners and individuals who contributed stories, quotes and photography to our 2020 Year-in-Review, including:
Alison Powell, JFP Graduate
Anika Moran, JFP Graduate
Business Impact Northwest and Joe Sky-Tucker
Dakoda Foxx. JFP Graduate
Degrees of Change and Nalani Linder
Dionne Bonner, JFP Graduate
Ella Banken
Fab-5 and Chris Jordan
Filiva'a "Bojie" Mageo III, JFP Graduate
Joseph Denton, JFP Graduate
Levon Williams, JFP Graduate
Melinda Raebyne, JFP Graduate
Micah Tucker, JFP Graduate
Museum of Glass Hotshop Heroes and Debbie Link
Oceans Initiative and Erin Ashe
Puget Soundkeeper Alliance's Lost Urban Creeks Project and Stephanie Hess
Puget Soundkeeper Alliance and Unleash the Brilliance project
Rosalinda Castro, JFP Graduate
Sarah Luna, JFP Graduate
Supreme XI Amaru El-Bey, JFP Graduate
Wendy Pantoja, JFP Graduate