Update
Raise Your Voice: In Conversation with Alyssa Macy, CEO of the Washington Environmental Council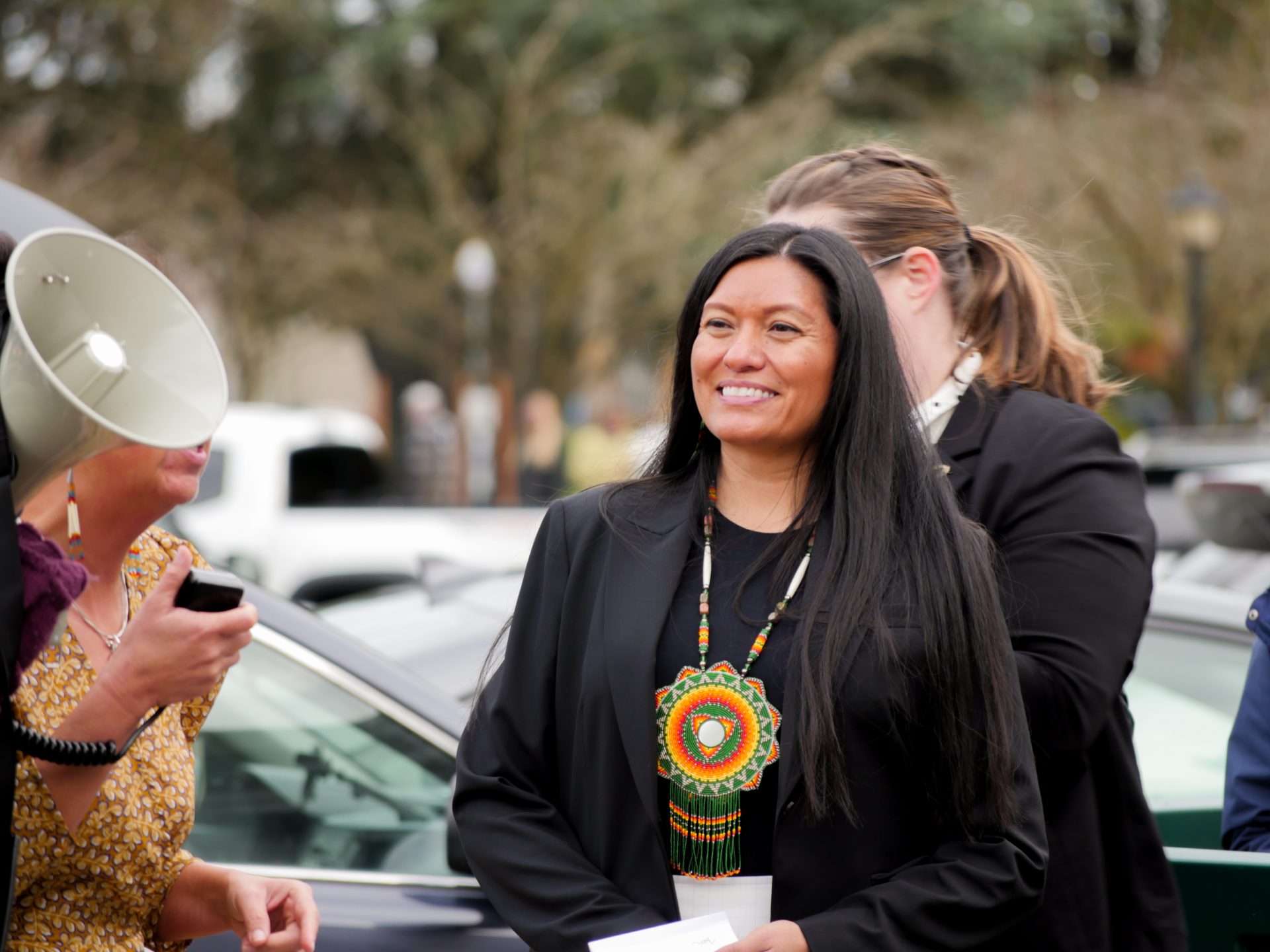 We spoke to Alyssa, Chief Executive Officer of the Washington Environmental Council (WEC), a TRFF grantee, on leadership during a pandemic, prioritizing people, and challenging the status quo. Alyssa began in her CEO role in January of 2020. WEC's mission is to protect, restore, and sustain Washington's environment for all. WEC's current work is focused on protecting and restoring Puget Sound, climate and clean energy, evergreen forests and advocacy and public engagement.
This interview has been edited for clarity.
The Russell Family Foundation (TRFF): What really drives you in your work at the Washington Environmental Council and where do you find your passion for your work?
Alyssa Macy (AM): Growing up, I spent a lot of time listening and talking with my father about our treaty and treaty rights. In particular, he'd talk about the hunting, fishing, and gathering on the reservation and in usual and accustomed places off the reservation. He spent a lot of time sharing our history and always took me back to our original homelands, along N'chi wana, also known as the Columbia River. We are salmon people and our cultural identity, spiritual practices and past and current lifeways continue to be connected to salmon. My upbringing has really influenced my personal feelings around what's important with the environment. As salmon people we are also interconnected with the water, land, and air. All humanity, whether it's recognized or not, are connected to the well-being of the land and as such, our collective destinies are tied together. We have a shared responsibility to be good stewards of this environment to ensure a livable future for all.
After spending several years back home and thinking "big picture" in the various leadership roles that I held, the place that I saw the treaty rights exercised most on a daily basis is in the area of natural resources and child welfare. And so, the natural resources piece to me always goes back to who we are as people of the river and our ability to practice our cultural lifeways. I was excited to be able to go back into advocacy work that was tied to the environment, and in particular salmon. So, though I may live in Seattle, I don't feel like I'm disconnected from my own community because any work that we do that's around water and salmon recovery will always tie back to my own nation. And, the tribal nations of this area are also salmon people and I feel a great kinship with them. That, for me, is a big driver in my stepping into this role, too.
This role is an opportunity to take the helm of a 50+ year environmental organization that's done meaningful work in the state of Washington and help the organization to do a better job working with tribal nations, black-led movements, and overburdened communities throughout the state.
TRFF: What are some of your top priorities as Chief Executive Officer at Washington Environmental Council?
AM: I've been doing a lot of work around "visioning." I want to be very clear with both staff and the board on where I want to take the organization, including one of the big reasons I came here: to support WEC's recent journey around race and equity work. I have worked with nonprofits – particularly environmental organizations – that haven't prioritized this evolution and have seen how this creates challenges for the work. We have been on a journey through our racial equity work and I'm focused right now on the internal work that we need to do to ensure that our work "sticks". By this I mean we need to build trust amongst staff, learn how to move through conflict, and make a personal commitment to examining our own biases on our own time. This journey is not a 9-5 endeavor. It's a lifelong endeavor that takes personal commitment. I'm also focused on our board, in particular recruiting and supporting BIPOC board members.
The biggest piece of our racial equity journey and the work ahead is figuring out how we truly center and amplify BIPOC (Black/Indigenous/People of Color) voices.  In practice, we are working to answer "How do you walk the talk?" in a historically white-led organization. What does [doing that work] look like? And what do we need to do to change how we  do our work so that our work with communities is authentic? This is a very challenging piece to think through. Working with tribal nations is key to our success and we are committed to actively supporting tribal sovereignty. In this moment in history, we are also called and moved to work with black-led movements and listening to voices of color and those most overburdened statewide. This is a big part of our journey and we will be working hard this year to figure this critical piece out.
Another priority for me is getting WEC through the strategic planning process- to ensure that the plan is something I can own and something I can work with over the next five years. We're in that process and doing it in a way that I've never seen done before, by centering BIPOC voices, and creating real opportunities for staff to provide expertise and guidance to the board.  The work has been challenging as we've done this almost exclusively virtual but we are making good progress and I'm looking forward to rolling out this new Strategic framework.
So, in that ambitious "I can change the word!" mentality, I joined this organization hoping to change it.
TRFF: How would you describe your leadership style?
AM: When I came here, I told the board that I would demonstrate what I would like to see from my employees, and that is to be focused on people and relationships. As an organization, I want to make sure we demonstrate that we value employees and that we create healthy boundaries between work and our personal lives. This is so important with quarantine and working from home
As part of my leadership style, I tend to demonstrate vulnerability with staff. I talk a lot about the things people don't necessarily want to talk about. For example, we've been having discussions internally on things that may make people cringe, like compensation and what goes into how people earn raises. Typically, in a job, we don't talk about money. But talking about these things helps us to normalize them, and it's really all about transparency. So, part of my leadership style is to talk about things and be transparent, both of which require vulnerability.
I am also focused on trust-building. There is a lot of momentum with our BIPOC staff and our board with wanting to do things right now, and the question that I'm always asked is, "Does this align with who we currently are? If not, what do we need to change internally so that we can move in this direction?" These can be hard discussions and to put everything out on the table around these big decisions requires trust.  To get there, I must know what my colleagues, especially our BIPOC staff, care about. Making sure that my vision and their vision are in alignment. We may disagree on tactics and strategies, but we need to be able to disagree and still remain in community with one another. Trust is key for this to work and I believe that we want to go in the same direction. It's about building relationships internally and externally.
TRFF: Speaking of your staff and team, can you talk about how your team has inspired you? And where have you found inspiration outside of WEC?
AM: I find a lot of inspiration in our BIPOC staff members – they ask tough questions and they have incredible ideas. Many of our BIPOC staff members are junior staff and I want to support their professional development so they are ready to step into new leadership roles (hopefully with us).  Many of these staff have been pushing for change and I'm inspired by their tenacity and willingness to stand up for what they feel is right. There are also fierce board BIPOC board members that have inspired me — who are doing similar work at the board level. All of this work has resulted in positive changes and there is work yet to do.
Big picture, we have incredibly dedicated staff who have a shared vision of  leaving this place better than we found it – that means stopping bad ideas like expanded fossil fuel production, but also building a vision of better managing forests and shared waters, including Puget Sound, so that future generations experience what we value today. That takes teamwork, and it takes innovation.
Outside of the organization, I've had a lot of friends who have decided to do things differently. The people who inspire me the most are all women of color, and they're at this point where they are unapologetic in the decisions they make. The bravery that I'm seeing right now helps me to feel like I can take some risks, and that people will support me. And I don't think I've felt that way before in my career.
TRFF: With everything that's been going on, including an ongoing pandemic, how have you had to adapt your approach to leadership? Do you have an example?
AM: We've had to adapt, and part of that has been moving away from the idea of needing to work a strict 40-hour week to instead prioritizing outcomes. As we've shifted to how we evaluate how we work in light of our staff and their full selves – working from home, family and other stressors in life due to COVID. In order for us to do good work, our employees need to be healthy. That requires that we actively support them to address issues that may come up with their families and provide support for their work-from-home set up. The way that we're focusing on employee health and wellbeing is something that I've never seen in my career—it was always an afterthought. I want people to take time off and take time away, so I demonstrate that that is okay.
TRFF: Has anything surprised you about yourself during these unprecedented times? If not, what has been most challenging?
AM: I'm a spiritual person, so I believe the Creator puts me where I'm supposed to be. I prayed a lot about coming up here and whether I'd have an impact and change this organization and the trajectory of work and how we do work. I mentioned previously that my spirit is also called to continue work that connects me to my nation and all salmon people and staying connected to that calling is incredibly grounding during this time. All of the big picture issues that I brought to the board that seemed like it'd take time, things that I've put on a vision board for four to five years from now seem possible and in reach in the next one or two, so that is super exciting. What has surprised me, personally, is having a vision of healthy leadership stepping into a situation where I had all of five weeks to see people in person, and then having to move into a virtual space to continue to do that work. I'm surprised I haven't lost my mind, but I'm also surprised that it all works, as long as you care about people. What I wanted was to be that leader that I've wanted throughout my career, so this is a pretty good test run for that, and it's been well-embraced by the staff.
TRFF: Do you have any advice for other grassroots or nonprofit leaders?
AM: My advice to non-profit leaders is to push. We're in a historic moment, and if we're not doing things to change, we will be irrelevant.
TRFF: Thank you for speaking with us, Alyssa.
Alyssa Macy is a citizen of the Confederated Tribes of Warm Springs, Oregon and was raised on the Warm Springs Indian Reservation. She is of the Wasco, Navajo, and Hopi descent. Most recently, she served her Nation as the Chief Operations Officer where she was responsible for $33 million in tribal programming and services. Her previous experiences include working transportation, campaign management, communications and international advocacy within United Nations bodies. She is a published writer and co-authored the first ever national report on Native American voting in 2005.
To learn more about the Washington Environmental Council, visit https://wecprotects.org/