Update
The Russell Family Foundation – Environmental Education Assessment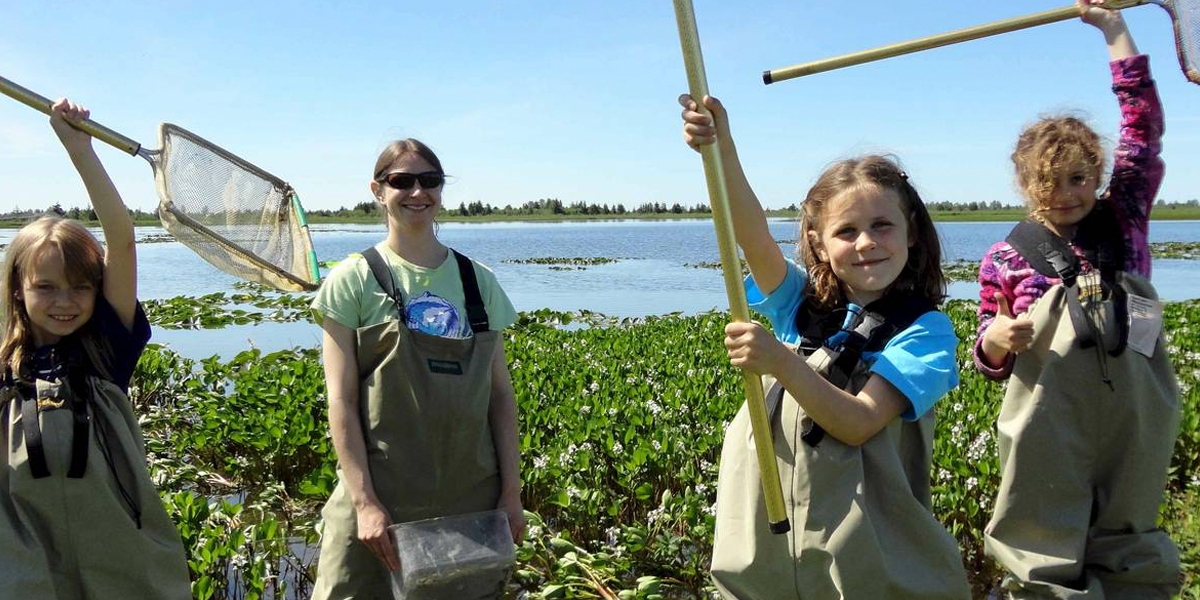 What we learned and the resulting changes to the program.
Welcome to our blog. Here you will find a variety of personal commentaries and occasionally some genuine insights from various TRFF contributors. We promise to keep it short, personal and constructive. Let us know how we are doing – send your thoughts and ideas to Stephanie Anderson, stephanie@trff.org.
While the term Environmental Education may not have a universal definition, it can conjure up similar notions among many of us. Words that might come to mind include children, adults, nature, parks, science, sustainability, and systems and so on (just to name a few). For over a decade, The Russell Family Foundation supported local Environmental Education (or EE) efforts in a similarly all-encompassing fashion. But after about 10 years and $8MM dollars, the Foundation board of trustees decided to look back at the impact this investment made and forward at what Environmental Education opportunities lay ahead.
In 2011, the Foundation retained a consulting team, Sound Resolutions of Seattle, WA, to conduct an assessment of our EE grantmaking strategy. Over several months, they carried out an in-depth literature review and conducted interviews with staff, board, grantees and thought-leaders in the field of EE.
The study produced a series of findings and recommendations. While very proud of the work we had supported over the years, this review process eventually helped the Foundation make refinements to our EE program. Here are several of our consultants' key findings/recommendations, paired with the Foundation's resulting program refinements in place today:
Put It On Repeat
EE is most effective if it is reinforced over time. The literature review and interviews yielded no consensus on a single age group to target. Various programs target different ages, with differing interventions and outcomes – though some held the assumption that the most effective EE learning takes place from grades 5-12. Learning theory suggests that education is the sum total of an individual's experiences, not a single punctuating moment. EE programs should aim for multiple touches with each child, student or adult.
Today, The Russell Family Foundation: Supports a continuum of EE experiences (aiming for a minimum of 3 touches per student per program) and if focused on students in Grades 5-12.
Look No Further than your own backyard
Experiential EE may be most effective when it takes place near learners' own communities. Compelling arguments were made that a greater level of EE programming could take place in learners' neighborhoods. For example, kids working to restore a stream behind their school may gain a greater understanding of how local actions affect Puget Sound health. Such efforts also encourage engagement in the local community. A significant part of the cost of certain EE programs is associated with the logistics of transporting students to and from program sites, so a local emphasis could increase cost-effectiveness.
Today, The Russell Family Foundation: Prioritizes grants that support experiential EE with strong local context (e.g. backyard settings, neighborhood parks, local streams etc.).
Develop the Next Generation
High School EE often misses opportunities for youth leadership development. While there are some great high school EE programs, overall, there is a gap in EE leadership development opportunities for young adults in high school and early college. A youth leadership or fellowship program could assist students in selecting and completing culminating projects with an environmental focus and provide volunteer opportunities for youth within environmental organizations. These experiences could influence youth to become engaged citizens and potentially choose environmental degrees and careers after they leave high school.
Today, The Russell Family Foundation: Continues to look for ways to support young-adult or high-school leadership development opportunities that tie together environmental education and academic or social success.
All It Takes is One
Individual teachers and other adult mentors can play a pivotal role in fostering children's interest in and connection to the environment. Many interviewees, reflecting on their own experiences, noted that a key mentor a teacher, a youth leader, a relative often was the inspiration for life-changing experiences. This was also supported by the research. In EE, teachers can sometimes be that type of mentor. A number of people noted that many gifted teachers who are interested in EE are not always weaving it into current classes because they don't have the knowledge or tools to do so. A program assisting teachers might address and support this transition.
Today, The Russell Family Foundation: Continues to look for ways to support teacher learning and development. For example, the Foundation has supported Storming the Sound regional conferences, which bring together teachers and informal educators around best practices in Puget Sound EE.
We're Better Together
Foundation efforts to convene and inspire EE grantees is highly valued. Foundations are uniquely positioned to bring together and promote collaboration among key players in EE. Foundations can help EE organizations make important connections with peer organizations that result in joint programming, professional development and sharing of best practices throughout the field.
Today, The Russell Family Foundation: Looks for opportunities to convene EE grantees for discussion, collaboration & learning. For example, in 2013, the Foundation will partner with several local funders to hold a networking and learning exchange among formal and informal Environmental Educators throughout Pierce County, WA.
Additionally, the Foundation made a few further refinements in order to narrow our focus. We refocused on outdoors experiential education (or what Foundation board members sometimes refer to as Feet on the Beach). We reemphasized the relationship between our Puget Sound program and our Environmental Education program so that all EE grants going forward demonstrate a strong connection to the waters of Puget Sound. And we narrowed our EE geographic scope to just four of the 12 Puget Sound counties – King, Pierce, Kitsap and Thurston. Within Pierce County, we plan to develop a special portfolio of EE work focused on the Puyallup Watershed in conjunction with our larger Puyallup Watershed Initiative.
These changes were not made easily, and thankfully, not on our own. Many people contributed to the process and we believe our program today is tighter and more connected because of it. But the real results, though difficult to measure, will be seen in the lives of the students served by EE programs; in their extracurricular interests, academic pursuits, and eventually their personal and professional behaviors as adults.