Impact investing has been an integral part of our giving model since 2004. Learn more about our approach below.
Since our beginning in 1999, we've focused on stewarding all of our resources toward collective, community-driven impact at every level – individual, group, organizational, institutional and societal. Toward this end, we began engaging in mission-based investing with the goal of strengthening communities and promoting economic vitality.
We are excited to report that since 2014, we've gone from 7% to 94% impact-aligned investments. Serving as a reproducible model for change, we want to show the world how to sustainably invest in its communities, people and the environment.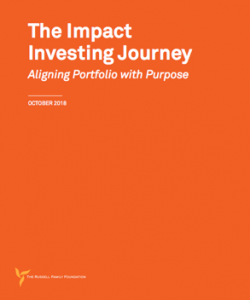 Read our case study and executive summary that outlines key learnings from our comprehensive journey in impact investing.
Pursuing Mission-Alignment
Impact investments are investments in companies, organizations, and funds with the intention to generate positive social and environmental impact alongside a financial return. That's why you'll often hear the term "mission-aligned" and "impact" used interchangeably.
Divest-Invest
Loan Guarantees
Direct Deposits
Community Banks
Screening and Tilting
Shareholder Advocacy
2014-2023
Impact Investments
Working with our investment advisors, we developed a straightforward framework encompassing the range of tools we use and the impact we seek to realize across our portfolio. It includes five levels with increasingly greater mission alignment and intentional, measurable, and quantifiable impact.
For us, this framework optimizes structure and consistency for asset allocation (or reallocation) and streamlines decisions in a way that evolves with our mission and objectives.
Level 1: Negative ESG Screening
We use "negative screens" on securities or industries to avoid investments that run counter to our mission, including fossil fuels and highly carbon intensive industries that can harm the environment.
Level 2: Positive ESG Screening and Shareholder Engagement
We also use "positive screens" or "tilts" to overweight our portfolio towards certain investments such as clean technology. The large exposure for this part of the portfolio is passive investments or an index-based approach. As shareholders, we take advantage of voting proxies and co-filing corporate resolutions on topics that support our mission.
Level 3: ESG Integration
A significant portion of the portfolio is structured around investment strategies that integrate "environmental, social, and governance" (ESG) factors. For example, in response to a global trend around climate change and resource scarcity, we seek to invest in companies that lower greenhouse gas emissions and increase food production in climate sensitive ways. The exposure for this part of the portfolio is active management, and includes public equities, fixed income, and alternative investments.
Level 4: Thematic/Place-Based Investing
We use "thematic investing" to further focus our portfolio on specific categories that align with our mission, such as sustainable forestry, agriculture, clean tech, equity, inclusion, affordable housing, etc. We also make investments that are "place-based" – deploying capital to the Pacific Northwest region, which is where we do a majority of grant making in fulfillment of our mission.
Level 5: Capacity Building/Program-Related Investments
Our investing strategy allows for smaller "catalytic" investment opportunities that have the potential for outsized environmental or social returns. These investments may be higher risk or might have lower return expectations in the short term; but we consider them to be truly innovative and transformative business models. Included in this bucket are first-time funds, direct investments, and new business models that advance social and environmental goals.
Mission Investors Exchange is the leading impact investing network for foundations dedicated to deploying capital for social and environmental change.
The Global Impact Investing Network (GIIN) focuses on reducing barriers to impact investment so more investors can allocate capital to fund solutions to the world's most intractable challenges.
DivestInvest is a global network of individuals and organizations divesting from fossil fuels and investing in climate solutions to accelerate the transition to a zero-carbon economy.
Confluence Philanthropy supports and catalyzes a community of foundations, individual donors, and investment advisors to advance mission aligned investing.
We believe transparency, learning and sharing is key to making progress in how we invest as a foundation and as a society. Learn more about our investments.