Update
Great Peninsula Conservancy Launches "Land Labs" to Engage Students in Outdoor Conservation & Learning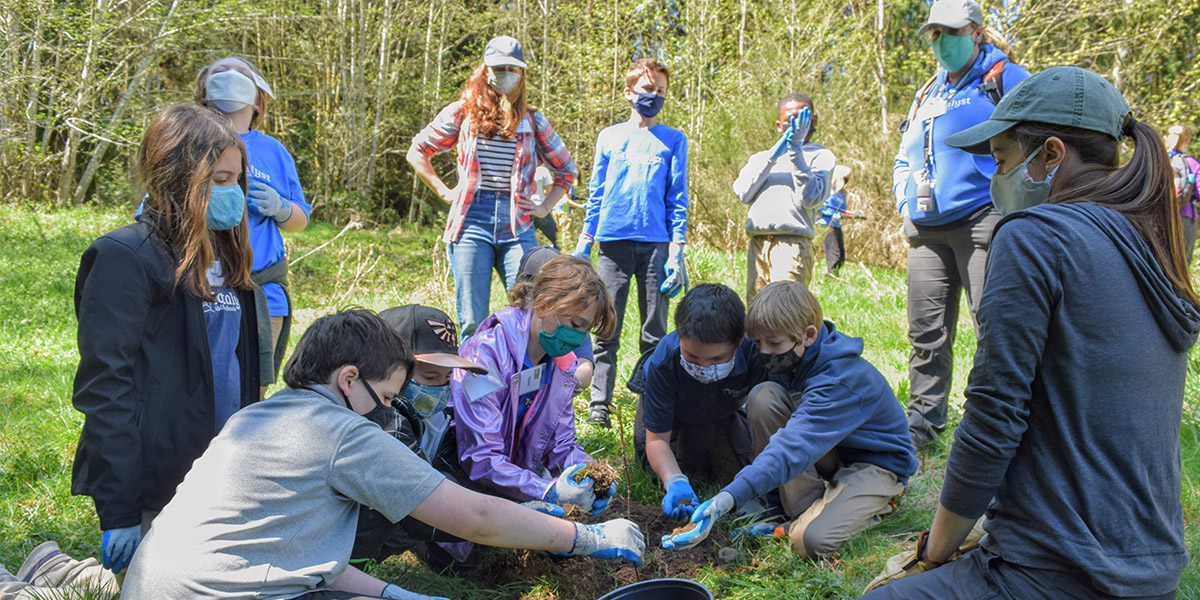 On an overcast day in April 2021, a group of fifth-grade students from Catalyst Public Schools arrived at Curley Creek Tyner Preserve for a much-anticipated field trip and day of learning. Their virtual Bremerton classroom was suddenly expanded to a beautiful 28-acres of forest that safeguards nearly one-half mile of Curley Creek, not far from Port Orchard. And it was the first time these students got together in person during the 2020-2021 school year.
Hosted by the Great Peninsula Conservancy's (GPC) new Land Labs program, students experienced a full day's curriculum focused on environmental stewardship and conservation. Most notably, students learned how to identify and safely remove invasive plant species. During the trip, fifth graders restored nearly 4,300 square feet of land!
Catalyst Public Schools teacher Stephanie Layson remarked of the day, "The experience with GPC Land Labs was the best field trip I have been on in my 14 years of teaching. Land Labs staff and volunteers organized a perfectly balanced day of learning, investigating, and protecting the Curley Creek Tyner Preserve. The scholars we brought along with us continually talk about how this trip was the best thing they did all year. One parent even remarked that her scholar was more active on this trip than he had been all year."
Land Labs began earlier this year to engage the community in conservation and develop the next generation of environmental ambassadors. GPC's land trust includes more than 10,000 acres of wild land throughout Puget Sound. Knowing that access to outdoor education can be tough for schools – especially wild land – GPC launched the program with the goal of working with 150 fifth, sixth and seventh grade students each year.
Its three key program areas include:
"Puget Sound Shoreline" – students test Hood Canal's water quality, assess shellfish and shorebird habitat, and support conservation of Olympia Oysters.
"Climate Resilient Forest" – students examine how climate change can affect forests, participating in forestry assessments and measuring biodiversity to determine levels of climate resilience.
"Salmon Supporting Streams" – students investigate salmon habitat by monitoring quality of abiotic and biotic factors in a stream ecosystem. Next, they learn restoration techniques.
This curriculum is led by GPC team members, local environmental experts, and trained volunteers and is based on Middle School Next Generation Science Standards and inspired by the BEETLES (Better Environmental Education, Teaching, Learning & Expertise Sharing) learning philosophy developed from the Lawrence Hall of Science, University of California-Berkeley.
Are you a middle school teacher in the Bremerton area with an interest in getting students outdoors? Reach out to Great Peninsula Conservancy at landlabs@greatpeninsula.org or visit https://greatpeninsula.org/connect/landlabs/ for more information.