Update
Raise Your Voice: In Conversation with Tafona Ervin, Executive Director for Foundation for Tacoma Students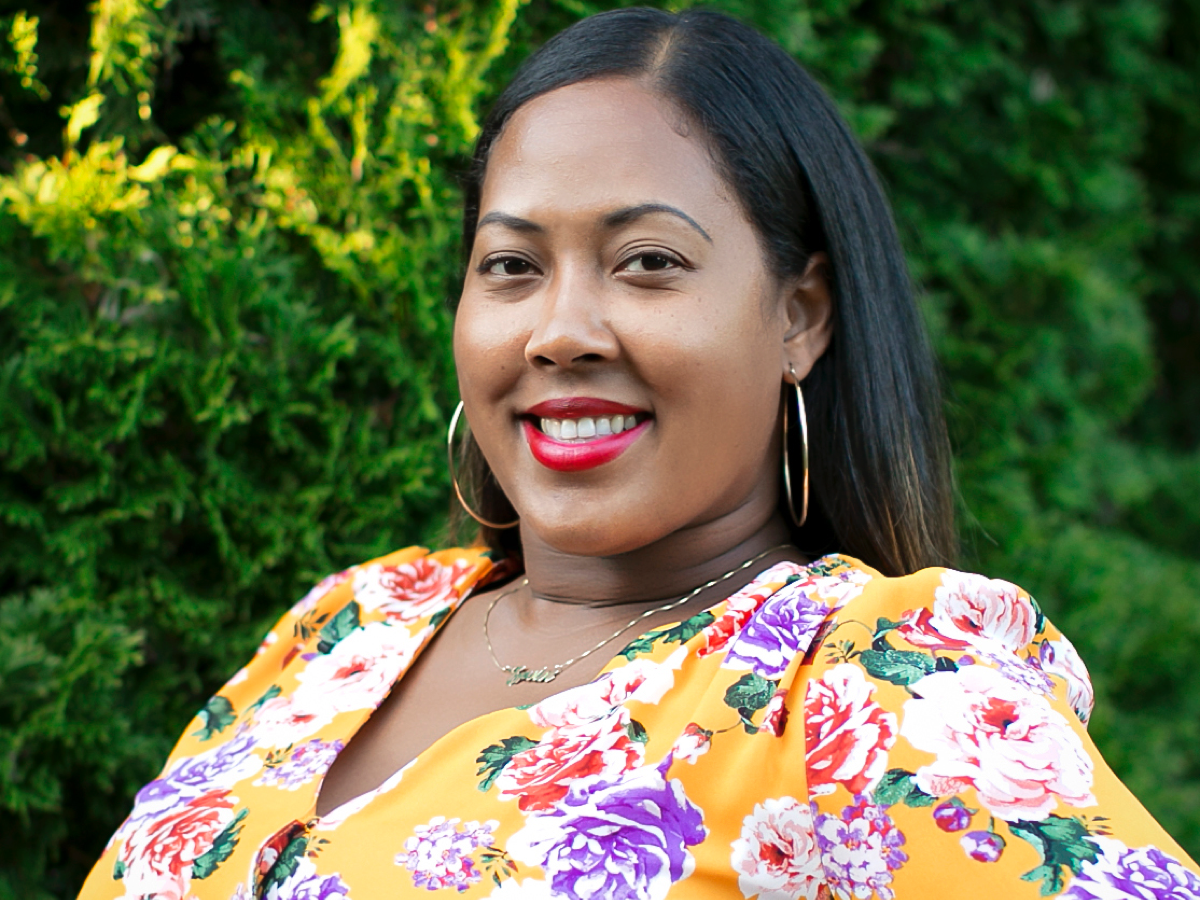 In our next installment of this series, we spoke to Tafona Ervin, Executive Director of the Foundation for Tacoma Students, a TRFF grantee, on her motivations and how this year has helped shift her leadership style. Tafona is a dedicated advocate for equitable education with nearly 15 years of service in education and several years of experience leading transformation work in a place-based community setting. Serving as the Executive Director for the Foundation for Tacoma Students, Tafona partners with more than 350 community partners that make up a coalition of advocates aligning to a shared vision and community-built goal that supports Tacoma's youngest residents in achieving success from cradle to college and career. She has become a champion in her community advocating for early learning, STEAM education and training for under-represented populations, serves on a statewide equity taskforce, the WA State Kaiser Permanente Community Advisory Board, Child Care Resources of Pierce and King Counties board of directors, named Golden Apple winner for equity in education, and one of the Puget Sound's 40 Under 40. Tafona has earned a bachelors, masters, and doctoral degree from Washington State University, whereby educational policy and leadership has been her focus.
This interview has been edited for clarity.
The Russell Family Foundation (TRFF): What are some underlying motivators that drive you in the work that you do every day?
Tafona Ervin (TE): I was born and raised here in this community and I am a product of Tacoma public schools. I have many friends who have been through the system and have either made it out "successfully," or have been really oppressed or marginalized by the circumstances that they were in. Because of this, I am really motivated by understanding that system first-hand and then being able to correct it where I see, or think is best.
There are improvements that can be made, that will particularly impact marginalized populations, that can make future opportunities for students more equitable.
Secondarily to that, I have school-aged children who are both in Tacoma public schools, so understanding the system both from my own lived experiences and now through theirs in their current form really gives me the motivation to continue forward. I have an obligation to ensure that I can support them and help them successfully navigate and be able to have whatever opportunity they desire as they move on to the next phase of their life.
TRFF: What are your top two or three priorities as executive director of the Foundation of Tacoma Students?
TE: The first (priority) is always sustainability of current operations in infrastructure, whether that's staffing or programs. I think it's important to ensure that all organizations are growing and evolving in a way that's making more scalable impact. But it also requires being able to sustain it in a way that allows for that work to continue.
The second priority is hiring and retaining staff. We look for a diverse staff in experience, but certainly diverse staff in many other demographics, whether that's race, ethnicity, religion or anything else. Part of my background has been in recruitment and so I have a little bit of an affinity for how you recruit and what it means to actually do so. While I've done that very well and I have a very diverse staff, it's not lost on me that this way of thinking has to be institutionalized. Now my priority is ensuring that policies and practices within the organization are sustained in order to maintain and recruit the type of diversity that we seek in our organization.
Lastly, but certainly as important if not the most important, is ensuring that we are demonstrating successful outcomes for students in Tacoma. Everything that we do is to ensure the students in front of us today are getting all of the opportunities that they deserve in order to have the best life. Our staff, myself and others are committed to that, and I would say that always remains as part of the vision of this organization, which is where every child succeeds in school, career and life.
TRFF: How would you describe your leadership style?
TE: That's an interesting question to ask because I would have been able to give that to you very quickly before the pandemic. Things have changed significantly, so I don't know what kind of leader I am today. I think I'm a responsive leader trying to do what's right for everything and everyone, but generally I have an appreciation for interpersonal relationships. I really value individuals, but I also value traditionalistic ways of operating an organization. Business is business and life is life. However, we know that an individual doesn't leave their life at the door when they enter into their work. I try to find a way to really marry those two, but in a way that still advances our work and get things going.
I'm also a straight shooter. If you know me, you know that it's really hard for me to lie or to beat around the bush. I call it how I see it and I'm pretty direct, but in a way that's always focused on trying to get work done. I think people have an appreciation for that. And, I'd have to say that I'm pretty fun. I really love and enjoy light working environments where you can just let your hair down, crack a joke and kick your feet up sometimes, so I want to make sure that my staff always feels like that's welcomed as long as it's not getting in the way of the work.
TRFF: How have other leaders inspired you and how has your team inspired you?
TE: Right now especially it's been a difficult time in on many fronts, and the amount of pressure and demand that I'm putting on my team is constant. They're being asked to do something different every day and I know that it's hard to manage competing priorities compounding on each other. And while I certainly recognize that, I also know what's at risk if we're not responding in the way that we are.
I think that I'm inspired by how much my team has stepped up to the plate. There's some pushback; and it's a healthy pushback that I appreciate, but there's also this feeling of "we know where your heart is and what you're trying to do." That just gives me hope that we can continue. While this isn't entirely sustainable, we can at least continue it for the foreseeable future.
I also think there are so many leaders in our community and nationally whose table I am a part of. It's incredible the amount of things that everyone is juggling and how they're managing it.
I have to first and foremost give credit to Carla. I think Carla Santorno, our Superintendent of Tacoma Public Schools, is without a doubt one of the most resilient leaders that I have met, but particularly in public education. I'm always humbled by how she can talk about her frustrations for a moment, but she's able to move on right after and just gets to work. That is what you need in leadership. You can't wane in the challenges or else you'll find yourself not actually moving forward.
I also have an appreciation for Black leaders, especially right now. I think there is so much pressure and so much that is happening, not just emotionally and mentally, but even at the institutional level of whether or not there are capabilities, whether or not we can sustain, and how do we do that. I'm in awe at how many Black leaders there are in Tacoma, and how much we've all connected with each other. We call and text and email and visit with one another and try to work through some of these things. You need that type of group in order to feel like you're not the "only one."
TRFF: Has anything surprised you about yourself during these times?
TE: I'm surprised that I am an emotional person. Prior to now, I didn't really wear my emotions on my sleeves. I might have demonstrated facial expressions that told you what I'm thinking, but in terms of really letting out my disappointment, hurt, frustration or uncertainties, I haven't done that before. I think that all of the injustices we've seen across the country, and even locally, come to a head and they put you in this place where you don't know if you should professionally let out your emotions or if you should hold back. You have to question, "are you weak for feeling this way?" I think what surprised me in this time is realizing that it's OK to feel those emotions, and to take a little moment for self in order to cope and deal with all of the things that are happening.
TRFF: What has been something that's been really challenging during these times?
TE: It's the competing priorities; they are just exhausting. There is no way to describe how much is being asked of everyone. The hours are long; there are days where it feels like you're not making progress, or you can't check the box to get anything done. My favorite phrase right now is, "I just don't know." What's next? What to do, how to do it? We continue to press and fail forward. This has always been a strategy of mine: you have to fail in order to understand and learn a lesson so that you don't make the same mistakes. That's kind of like this place that we're living in right now.
TRFF: Do you have any advice for other grassroots or nonprofit leaders?
TE: Take time to decompress and process to really strategize. Cut back unnecessary meetings. Take a moment for yourself or your family and be OK with missing a beat. As much as we want to solve the world's problems, they're not going to be solved today. When you're not your best self then you can't bring the best parts of you to this work, and therefore the work of ensuring every child's success is all for not.
I can see the exhaustion in peoples' faces because we want to do so much. There was this article, I think in The New York Times, that talked about how trying to be productive in an unproductive environment is just not productive for anyone. So, try to take a step back and process; that would be my advice.
The road ahead particularly, for nonprofits specifically here in Tacoma and Pierce County, is so uncertain so my other piece of advice would be to not let that beat us up. We don't know where funding is going to come from, and it's been an interesting time that dollars are stretched more than ever before. We need to together and collectively think about how we avoid losing the fabric of the work.
TRFF: Thank you so much for sharing with us, Tafona.
To learn more about Foundation for Tacoma Students, visit https://graduatetacoma.org/about-the-foundation-for-tacoma-students/.